Guest article from zazmic.com.
While women have been instrumental in technological progress, the tech industry is still male-dominated. However, that does seem to be changing with time. Over the years, we have seen an increase in the number of women applying for STEM programs at university. It is also no secret that more and more women choose a career in the tech industry these days. Women hold various positions: developers, marketers, testers, HR, designers, etc.
It is also true, however, that these women who are trying to break into the tech industry face challenges and roadblocks their male co-workers never encounter. Knowing what these obstacles are ahead of time and taking steps to avoid them is important for women trying to join the tech industry. So, what should young women looking for a career in this industry know? Well, let's take a look at some of the most important questions facing women in the tech industry today.
How does a woman build a strong presence in the male-dominated tech industry? Can a woman realize her individuality and talent in information technology? Is it necessary to have a penchant for math and data analytics to have a successful career in IT?
In order to address these questions, we asked three women working in Zazmic Inc. about their work in IT. Zazmic is a 250-plus-strong team that delivers Silicon-Valley-quality solutions to accelerate digital transformation. The company's specialization is Elastic Engineering, Cloud  Engineering, and Digital Marketing. We talked about women working in IT, including the challenges and inspirations they encounter.
Anastasia Nikonorova. She has been working at Zazmic in the position of Lead HR for about two years. Her experience in Human Resources comprises more than 13 years.
Can you share a little bit about yourself?
"I started my career as a recruiter. I selected specialists for various positions in a large commercial and industrial company. Then I worked as the Head of Selection and Adaptation of Personnel in the metallurgical industry. At that period, I acquired my first experience in teaching adults: I taught top managers to create successful teams. I quickly realized that helping other people grow and become successful is much more interesting for me than looking for specialists in a company. I received an additional degree in personnel assessment and training and switched from recruiting to talent development. I still remain true to my path, in whichever company I work, helping people to develop and find happiness in their work is my main mission."
What was your most interesting project?
"I have had a lot of interesting projects and I'm sure many interesting projects are waiting for me in the future. The most interesting ones are those which are related to the development of people and personal professional challenges. At the moment, the most interesting project that I am working on is "Internship Node.js". This project is designed to find talented beginner developers and, in just three months, grow them into Junior Node.js specialists who are able to work on tasks on real projects."
What's next? What are you planning in your career?
"I am happy with what I am doing now. The immediate plans include the further development of the corporate training and mentoring system, and the training of beginner specialists within the company (intern-type projects, talent schools, etc.). Professional plans include growing as an Agile coach."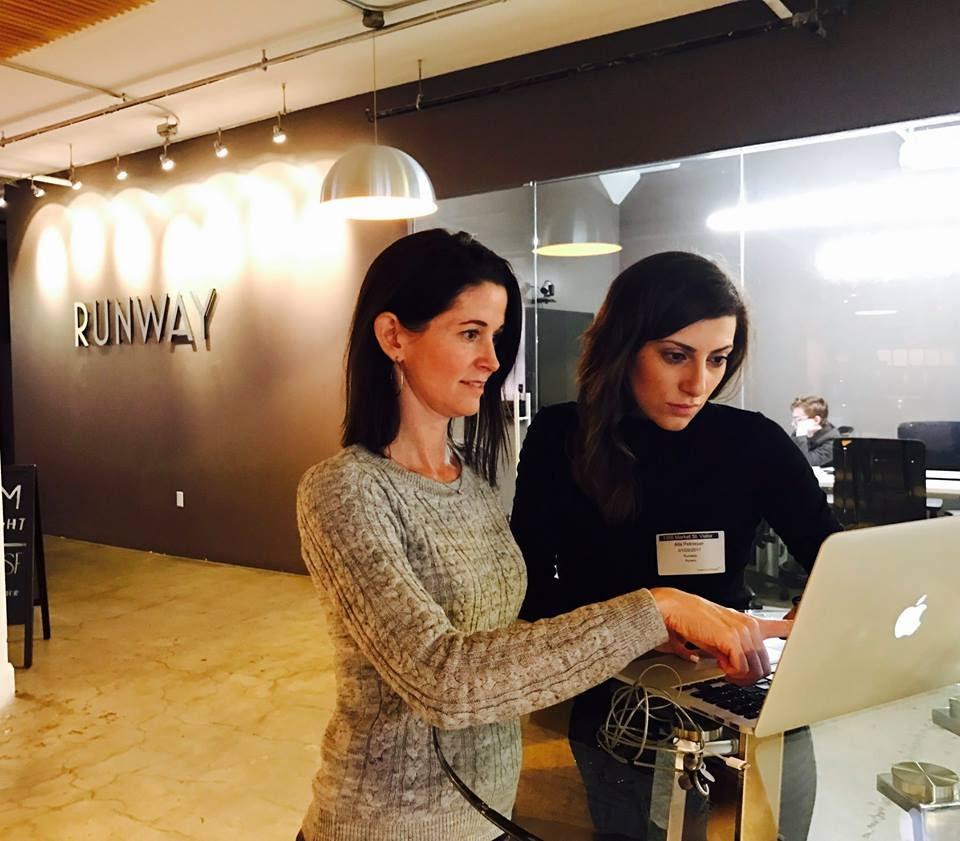 Julie Sanders. She works on select projects at Zazmic, both marketing and operational-oriented, and also has her own venture.
Can you share a little bit about your work?
"My co-founder and I are supported by a dynamic team from Zazmic who helps to build our sexual health & wellness platform.  We have had help from the team since the beginning with building the platform, marketing, and outreach."
What was the most challenging stage in your career?
"I spent 15+ years in investment management, which was mostly not super tech-savvy, especially at that time; although, it has changed in recent years.  When I craved a change in pace and a focus on my family, I started learning more about tech, and eventually, digital marketing.  Today, my learning is primarily focused on e-commerce, content & product development. The most challenging stage in my career is balancing the demands of my work and family, not to mention my entrepreneurial partner who built Zazmic."
What would you advise to women considering a career in technology?
"Many different careers and entrepreneurial pursuits involve tech knowledge or expertise to be successful.  If you don't have a high level of understanding, partner with those who do, like Zazmic, and go for it."
Eugenia Pogorlyak. She works at Zazmic in the position of Junior Front-end Developer.
Can you share a little bit about yourself and your work?
"For 1 year, I was an HTML-coder at Zazmic; Since 2018 I have been working as a Junior Front-end Developer on the Z-stream project."
What inspired you to pursue a career in tech and how long have you worked in IT?
"My path to a career in tech was quite winding. Having worked for some time as a PC operator, I later decided to become a programmer. But, in fact, my idea of programming turned out to be not as exciting as I thought. I entered university (Faculty of Information Technology), but I faced our education system realities. The university program wasn't enough to start a programmer career because I still didn't have the necessary skills and experience. But I took a website layout course. I found a job as a content manager, and then I ended up at a website development company. Overall, I have been working in IT for about 6-7 years."
You probably have tips for women considering a career in technology.
"I think a career in technology is not related to gender. But for sure, you must never give up! You can't be afraid of trying something new, and it's important to keep studying and improving skills all the time. Every woman is unique and each has her own skills, experiences, and perceptions that she can use to advance the tech industry. Women can also add an essential perspective to projects and problems, especially for technology that has other women as its target audience. There are many women in the tech industry who are making great strides towards progress and are guiding the way for future generations to reach their dream jobs."
We want all women to follow their dreams, achieve their goals, and enjoy their careers! We hope that the insights of these successful women will help pave the way for the future of women in the tech industry.
We know that every woman is unique. We encourage women to use enthusiasm to find non-standard solutions and her lightness of character to create a team around herself of like-minded people who are inspired by similar ideas. These factors combined create a path to success.
We wish all women will find their dream job, achieve their goals, and enjoy every moment of life!